Ferrofluidic Vacuum Seals
Ensuring a Sealed Environment with no Contamination
The vacuum seals which use ferrofluid to enable transmission of rotational movement into the vacuum atmosphere are used in the manufacturing process of semiconductors, flat panel displays (FPD), LED, and solar cells. They account for the company's core, and are used mainly in the etching and deposition processes of semiconductor wafers, as well as in the rotary mechanisms of delivery robots for FPD panels, isolating the sealed space from the outside, while precisely transmitting the necessary power for processing.
The Ultimate Rotary Seal
Engineered. In the 1970s, the engineers at Ferrotec pioneered a revolutionary approach to a common mechanical problem, creating a dynamic, hermetic seal for rotating mechanisms. Using Ferrofluid to create a liquid o-ring around a rotating shaft, we patented the first Ferrofluidic® seals which quickly became the gold standard for demanding precision sealing and rotation applications.
Designed. For over forty years, our engineering and manufacturing teams have been busy refining, optimizing, and re-envisioning our designs for an expanding set of application challenges. That's why the world's leading manufacturers turn to Ferrotec for their most demanding precision sealing requirements.
OEM-Specified. We design seals for a broad range of industries, shipping millions of Ferrofluidic seals used in a wide range of equipment worldwide. We continue to expand on our original designs with nearly unlimited sizes, complex process fittings, multiple planes of motion, integrated motors, and even computer-controlled intelligence, enabling sophisticated system operation.
Ferrotec Ferrofluidic Seal Microsite
If you're looking for more about Ferrotec's Vacuum Seal products, you can find more detailed information on Ferrotec's Ferrofluidic Seals and Vacuum Feedthroughs web site. On the site, you'll find a comprehensive resource, along with technical information about the specific product lines.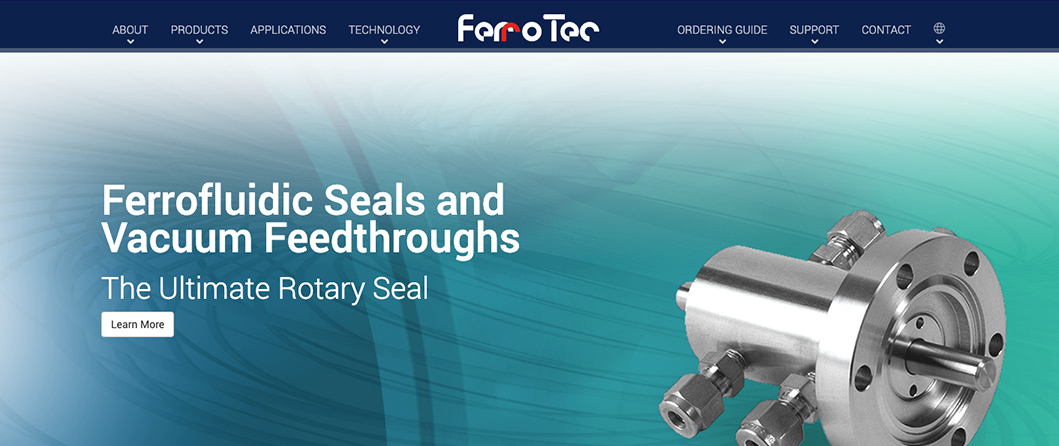 Typical Applications for Ferrofluidic Seals
Sputtering equipment
Sputtering is classified as a dry plating method, and plating can be done without exposing the coating object to liquid or high temperature gas. There are various fields of application, but it is an indispensable technology for thin film deposition that requires high quality for semiconductors and FPDs.
CVD equipment
CVD is one of the thin film deposition technologies called chemical vapor deposition. The heated substrate is supplied with a gas containing the components to be film-formed, and the film is deposited by a chemical reaction on the substrate surface.
Vacuum robot
Used to safely and accurately transport semiconductor wafers and FPD panels in a clean environment.
Ion implanter
Ion implantation is used to change the properties of a substrate by accelerating the ionized atoms or molecules and implanting them into the substrate.
In semiconductor manufacturing, electrical characteristics can be given by implanting boron or phosphorus into a silicon wafer.
Etching equipment
Etching is a surface processing method that utilizes the corrosive action of chemicals and reaction gases.
In semiconductor manufacturing, it is used as a thin film removal method when forming patterns on wafers.
There are dry etching that makes gas into plasma and removes it by accelerated chemical reaction with ions, and wet etching that uses the corrosive action of acid and alkali.
Epitaxial growth equipment
Epitaxial growth is a thin film technology that deposits a film with a uniform crystal orientation on the underlying crystal substrate.
Epitaxial growth technology is indispensable in power semiconductor manufacturing, where SiC and GaN, which are expected to play a role in the next generation, are drawing attention.
Gas introduction machine
Utilizing the sealing performance of the vacuum seal, it is possible to introduce gas into the process chamber. We also have a track record of multi-channel type.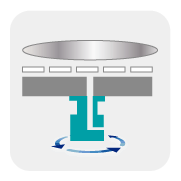 Vacuum chuck
It is a method of fixing the wafer or glass substrate by suction using the suction force of vacuum.
The sample can be fixed without damaging it during high-speed rotation or transportation.
Single crystal pulling device
It is a device for refining silicon ingots, which is essential for semiconductor and solar cell manufacturing.
Vacuum seals are also used in our own equipment, the silicon pull-up equipment for solar cells.
Vacuum furnace/Pressure furnace
Used for heat treatment of metallic materials.
The shaft of the vacuum seal is fitted with a fan to help control convection of gas and temperature.